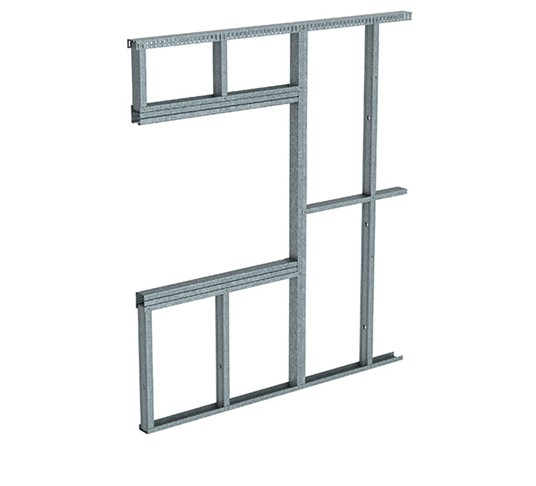 MAXIFRAME®

EXTERNAL WALL FRAMING SYSTEM
The MAXIframe® External Wall Framing System is a lightweight steel framing system for external wall construction. The system has been expertly engineered to offer builders a more efficient, versatile and cost-effective design option than traditional external wall framing construction methods.
MAXIframe® incorporates standard Judah 3 5/8″ Steel Studs as the main framing and includes two major profiles; MAXIjamb®, a Jamb Stud and MAXItrack®, a Slotted Deflection Head Track as well as complementary cleats to provide a simple, yet solid structure.
LIGHTWEIGHT
Efficient, versatile and cost efficient
FIRE-RATED
Available for Fire-rated applications
SIMPLE INTEGRATION
simple, solid structure
IMAGE
PART NUMBER
CAD FILE
DESCRIPTION
200

3 5/8" (w) x 3" (h) MAXIjamb® Stud
BMT: 18 GA | Stock Pack: 30 | Sub Pack: 1
Available Lengths: 9', 10', 12', 14'


201

2 1/2" (h) x 2" (w) x 3" (l) Base Bracket to suit 3 5/8" MaxiFrame
BMT: 2.90 | Stock Pack: 50 | Sub Pack: 50

202

3" (h) x 1 3/4" (w) x 3 5/8" (l) Sill Bracket to suit 3 5/8" MaxiFrame
BMT: 1.50 | Stock Pack: 50 | Sub Pack: 50

203

2 1/2" (h) x 2" (w) x 3" (l) Slotted Head Bracket to suit 3 5/8" MAXIframe®
BMT: 2.90 | Stock Pack: 50 | Sub Pack: 50

204

6" (w) x 3" (h) MAXIjamb® Stud
BMT: 1.20 | Stock Pack: 30 | Sub Pack: 1
Special Order Lengths: 10', 12', 14', 20'

205

2 1/2" (h) x 2" (w) x 5 5/8" (l) Base Bracket to suit 6" MAXIframe®
BMT: 2.90 | Stock Pack: 25 | Sub Pack: 25
*Special Order

206

3" (h) x 1 3/4" (w) x 5 5/8" (l) Sill Bracket to suit 6" MAXIframe®
BMT: 18 GA | Stock Pack: 25 | Sub Pack: 25
*Special Order


207

1 1/2" (h) x 2" (w) x 5 5/8" (l) Slotted Head Bracket to suit 6" MAXIframe®
BMT: 2.90 | Stock Pack: 25 | Sub Pack: 25
*Special Order

216

3 5/8" Nogging Track
BMT: 0.70 | Stock Pack: 100 | Sub Pack: 10
Available Length: 12'
Special Order Centres: 8", 12", 18", 24"

217

6" (w) Double Punched Nogging Track
BMT: 20 GA | Stock Pack: 60 | Sub Pack: 10
Available Length: 12'
Special Order Centres: ", 10", 12", 24"

506

3 5/8" (w) Nogging Track
BMT: 0.70 | Stock Pack: 100 | Sub Pack: 10
Available Length: 12' | Centres: 18", 24"

507

6" (w) Nogging Track
BMT: 20 GA | Stock Pack: 100 | Sub Pack: 10
Available Length: 12' | Centres: 18", 24"

680

3 5/8" (w) x 1 1/2" (h) Wall Track
BMT: 18 GA | Stock Pack: 50 | Sub Pack: 1
Available Length: 10'

681

3 5/8" (w) x 1 1/2" (h) Steel Stud
BMT: 18 GA | Stock Pack: 50 | Sub Pack: 1
Available Lengths: 9', 10', 12', 14', 20', 24'

690

6" (w) x 2" (h) Wall Track
BMT: 18 GA | Stock Pack: 30 | Sub Pack: 1
Available Length: 10'

691

6" (w) x 1 1/2" (h) Steel Stud
BMT: 18 GA | Stock Pack: 30 | Sub Pack: 1
Available Lengths: 16', 20', 24'
Special Order Length: 12'

S683

3 5/8" (w) x 2" (h) MAXItrack® Slotted Deflection Head Track
BMT: 18 GA | Stock Pack: 50 | Sub Pack: 1
Available Length: 10'

S690

6" (w) x 2" (h) MAXItrack® Slotted Deflection Head Track
BMT: 1.15 | Stock Pack: 30 | Sub Pack: 1
Special Order Length: 10'