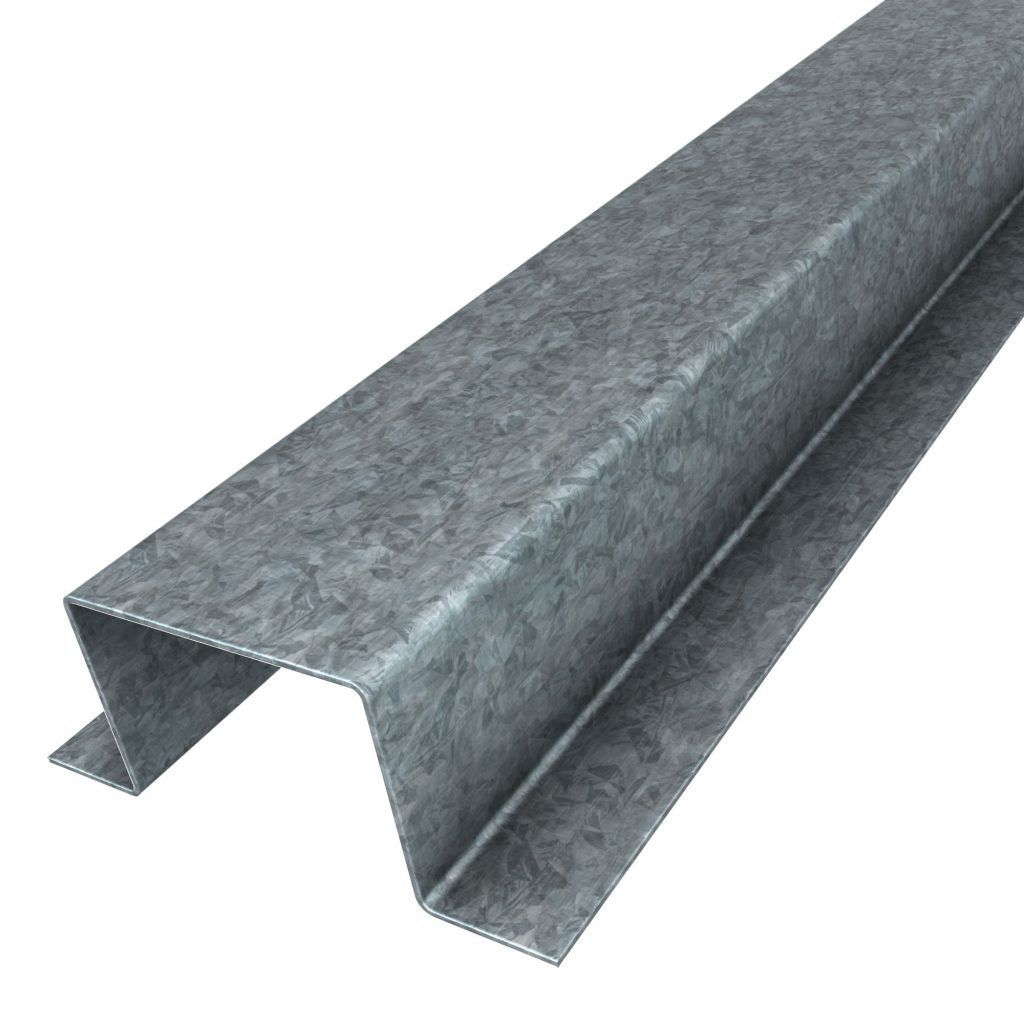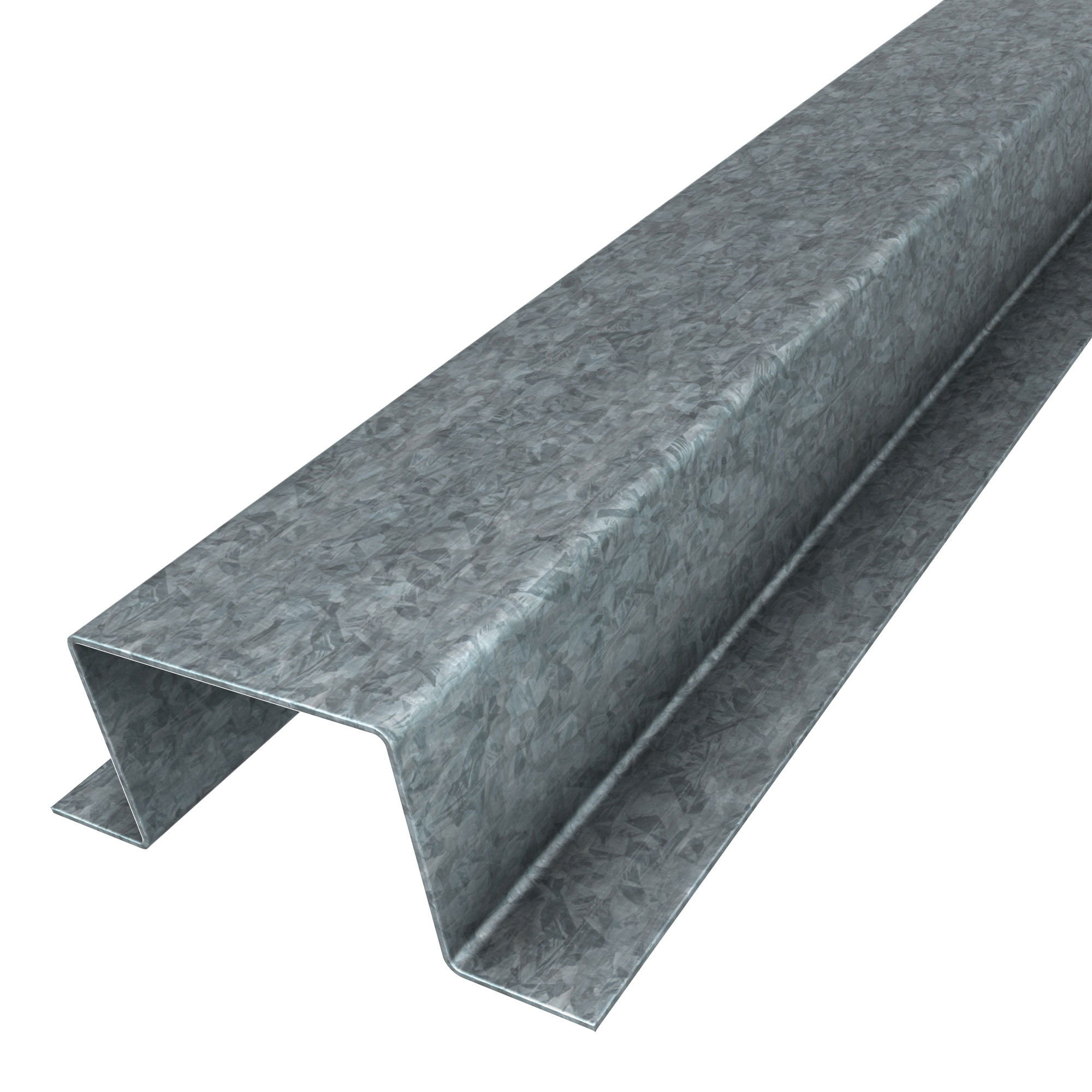 TOP HATS AND STEEL ANGLES
Judah® Top Hats can be used internally or externally and on vertical fascias and soffits. They are often used where there is a higher wind loading or where heavy duty sheeting is to be installed.
Steel Angles can be used to strengthen internal corners of façade systems and steel framing requirements for facade systems.
G200 Z275 GALVANIZED STEEL
Manufactured from G200 Z275 Galvanized Steel
VERSATILE
Suits most external and internal applications
20 GA AND 18 GA
Heavy Duty Angles are available in 20 and 18 GA steel thicknesses
Wide variety of Top Hat profiles to suit most external and internal applications and can be installed either vertically or horizontally
Top Hats and Heavy Duty Angles are manufactured from G200 Z275 Galvanized Steel
Heavy Duty Angles are available in 20 and 18 GA steel thicknesses
IMAGE
PART NUMBER
CAD FILE
DESCRIPTION
530

2 inch (h) x 2 inch (w) Heavy Duty Angle
Thickness: 18ga | Stock Pack: 100 | Sub Pack: 1
Special Order Length: 7ft 10-1/2in


535

1 3/8 inch (w) x 1 3/8 inch (h) Top Hat Cleat to suit 2 inch face Top Hats
Thickness: 14ga | Stock Pack: 50 | Sub Pack: 50


550

1 3/8 inch (w) x 1 1/8 inch (h) Top Hat Cleat to suit 2 inch face Top Hats
Thickness: 14ga | Stock Pack: 50 | Sub Pack: 50


552

1 inch (w) x 1 inch (h) Angle
Thickness: 22ga | Stock Pack: 250 | Sub Pack: 10
Available Length: 11ft 9-3/4in


553

1 3/8 inch (h) x 1 3/8 inch (h) Angle
Thickness: 22ga | Stock Pack: 250 | Sub Pack: 10
Available Lengths: 8ft, 8ft 10-1/4in, 11ft 9-3/4in


554

2 inch (h) x 2 inch (h) Angle
Thickness: 22ga | Stock Pack: 250 | Sub Pack: 10
Available Length: 11ft 9-3/4in


555

3 inch (h) x 3 inch (w) Angle
Thickness: 21ga | Stock Pack: 100 | Sub Pack: 1
Available Length: 7ft 10-1/2in


556

3 inch (h) x 3 inch (w) Heavy Duty Angle
Thickness: 18ga | Stock Pack: 100 | Sub Pack: 1
Available Length: 7ft 10-1/2in


557

4 inch (h) x 4 inch (w) Angle
Thickness: 21ga | Stock Pack: 100 | Sub Pack: 1
Available Lengths: 7ft 10-1/2in


558

4 inch (h) x 4 inch (w) Heavy Duty Angle
Thickness: 18ga | Stock Pack: 100 | Sub Pack: 1
Available Lengths: 7ft 10-1/2in


735

2 3/4 inch (w) x 1 3/8 inch (h) Top Hat Cleat to suit 3 inch face Top Hats
Thickness: 14ga | Stock Pack: 50 | Sub Pack: 50


750

2 3/4 inch (w) x 1 1/8 inch (h) Top Hat Cleat to suit 3 inch face Top Hats
Thickness: 14ga | Stock Pack: 50 | Sub Pack: 50


H515

2 inch (face) x 9/16 inch (h) x 9/16 inch (flange) - Top Hat
Thickness: 18ga | Stock Pack: 50 | Sub Pack: 1
Available Lengths: 11ft 9-3/4in, 19ft 9in/span>

H525

2 inch (face) x 1 inch (h) x 13/16 inch (flange) - Top Hat
Thickness: 18ga | Stock Pack: 50 | Sub Pack: 1
Available Lengths: 11ft 9-3/4in, 19ft 9in


H535

2 inch (face) x 1 3/8 inch (h) x 13/16 inch (flange) - Top Hat
Thickness: 18ga | Stock Pack: 50 | Sub Pack: 1
Available Lengths: 11ft 9-3/4in, 19ft 9in
Special Order Length: 23ft 7-1/2in

H545

2 inch (face) x 1 3/8 inch (h) x 13/16 inch (flange) - Top Hat
Thickness: 18ga | Stock Pack: 50 | Sub Pack: 1
Available Length: 11ft 9-3/4in
Special Order Length: 23ft 7-1/2in

H550

2 inch (face) x 2 inch (h) x 13/16 inch (flange) - Top Hat
Thickness: 18ga | Stock Pack: 50 | Sub Pack: 1
Available Lengths: 11ft 9-3/4in, 19ft 9in


H560

2 inch (face) x 2 3/8 inch (h) x 13/16 inch (flange) - Top Hat
Thickness: 18ga | Stock Pack: 50 | Sub Pack: 1
Available Lengths: 11ft 9-3/4in, 19ft 9in


H715

3 inch (face) x 9/16 inch (h) x 11/16 inch (flange) Top Hat
Thickness: 18ga | Stock Pack: 50 | Sub Pack: 1
Available Length: 11ft 9-3/4in
Special Order Length: 19ft 9in


H725

3 inch (face) x 1 inch (h) x 3/4 inch (flange) Top Hat
Thickness: 18ga | Stock Pack: 50 | Sub Pack: 1
Available Length: 11ft 9-3/4in
Special Order Length: 19ft 9in


H735

3 inch (face) x 1 3/8 inch (h) x 13/16 inch (flange) Top Hat
Thickness: 18ga | Stock Pack: 50 | Sub Pack: 1
Available Lengths: 11ft 9-3/4in, 19ft 9in


H750

3 inch (face) x 2 inch (h) x 13/16 inch (flange) Top Hat
Thickness: 18ga | Stock Pack: 50 | Sub Pack: 1
Available Length: 11ft 9-3/4in
Special Order Length: 23ft 7-1/2in


HB50

2 inch (h) x 2 inch (w) Slotted Angle
Thickness: 21ga | Stock Pack: 100 | Sub Pack: 1
Available Lengths: 7ft 10-1/2in


HB75

3 inch (h) x 3 inch (w) Slotted Angle
Thickness: 18ga | Stock Pack: 100 | Sub Pack: 1
Available Lengths: 7ft 10-1/2in


M515

2 inch (face) x 9/16 inch (h) x 11/16 inch (flange) Top Hat
Thickness: 21ga | Stock Pack: 50 | Sub Pack: 1
Available Lengths: 11ft 9-3/4in
Special Order Length: 19ft 9in


M525

2 inch (face) x 1 inch (h) x 3/4 inch (flange) Top Hat
Thickness: 21ga | Stock Pack: 50 | Sub Pack: 1
Available Length: 11ft 9-3/4in
Special Order Length: 19ft 9in


M535

2 inch (face) x 1 3/8 inch (h) x 3/4 inch (flange) Top Hat
Thickness: 21ga | Stock Pack: 50 | Sub Pack: 1
Available Lengths: 11ft 9-3/4in, 19ft 9in
Special Order Length: 23ft 7-1/2in


M545

2 inch (face) x 1 3/8 inch (h) x 11/16 inch (flange) Top Hat
Thickness: 21ga | Stock Pack: 50 | Sub Pack: 1
Available Lengths: 11ft 9-3/4in, 19ft 9in


M550

2 inch (face) x 2 inch (h) x 3/4 inch (flange) Top Hat
Thickness: 21ga | Stock Pack: 50 | Sub Pack: 1
Available Length: 11ft 9-3/4in
Special Order Length: 19ft 9in


M560

2 inch (face) x 2 3/8 inch (h) x 11/16 inch (flange) Top Hat
Thickness: 21ga | Stock Pack: 50 | Sub Pack: 1
Available Lengths: 11ft 9-3/4in, 19ft 9in


M715

3 inch (face) x 9/16 inch (h) x 13/16 inch (flange) Top Hat
Thickness: 21ga | Stock Pack: 50 | Sub Pack: 1
Available Length: 11ft 9-3/4in
Special Order Length: 19ft 9in


M725

3 inch (face) x 1 inch (h) x 3/4 inch (flange) Top Hat
Thickness: 21ga | Stock Pack: 50 | Sub Pack: 1
Available Length: 11ft 9-3/4in
Special Order Length: 19ft 9in


M735

3 inch (face) x 1 3/8 inch (h) x 3/4 inch (flange) Top Hat
Thickness: 21ga | Stock Pack: 50 | Sub Pack: 1
Available Lengths: 11ft 9-3/4in, 19ft 9in


M750

3 inch (face) x 2 inch (h) x 13/16 inch (flange) Top Hat
Thickness: 21ga | Stock Pack: 50 | Sub Pack: 1
Available Length: 11ft 9-3/4in
Special Order Length: 19ft 9in