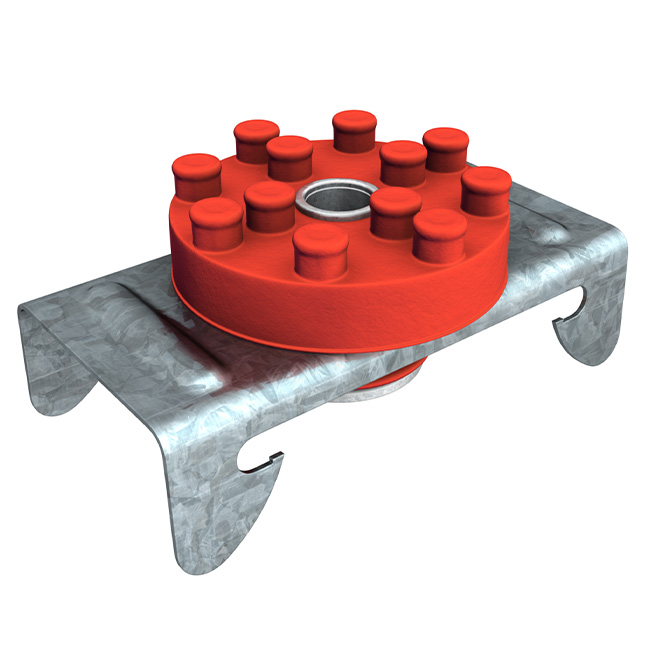 Judah® offers a selection of Acoustic Mounts that complement our range of wall and ceiling systems and have been tested to comply with the requirements of The International Building Codes IBC. Our new Acoustic Wall & Ceiling Systems Manual shows how our systems comply with all relevant codes and will help designers and engineers to design their next project with confidence.
AIRBORNE & SOUND INSULATION
Reduction of sound transmission
VERSATILE
Compatible with Wall and Ceiling systems
SIMPLE INTEGRATION
Simple, solid structure
IBC Compliant Acoustic Systems for both walls and ceilings
Consideration of Airborne & Impact Sound Performance
Compatibility with each Judah® System
The range of acoustic mounts and clips incorporates a rubber acoustic pad
Suitable for a range of wall and ceiling applications
Judah's® STWC Clip provides impact sound insulation improving the performance of the plasterboard, acoustic batt, wall or ceiling lining
Quick and easy to install
Judah's BETAGRIP Sound Isolation Clip delivers an innovative design which encompasses the above acoustic properties whilst providing adjustment for the level of the plasterboard lining.
IMAGE
PART NUMBER
CAD FILE
DESCRIPTION
126

Staggered Stud Clip (Special Order)
Stock Pack: 500 | Sub Pack: 100
*Special Order

581

5/8 inch (h) x 2 3/8 inch (w) Resilient Channel
Thickness: 25 GA | Stock Pack: 200 | Sub Pack: 10
Available Length: 11' , 10'


BG03

BetaGrip® 3 Acoustic Isolation DFC suits Furring Channel(s) 129,308,309A - M6 Adjustable Anchor Bolt
Stock Pack: 100 | Sub Pack: 100

BG03-NTB

BetaGrip® 3 Acoustic Isolation DFC suits Furring Channel(s) 129,308,309A - No Anchor Bolt
Stock Pack: 100 | Sub Pack: 100

STDC

Acoustic Isolation DFC - Stud Wall to Masonry/Concrete
Stock Pack: 100 | Sub Pack: 100

STPC

Acoustic Isolation DFC - 129,308,309A Furring Channel(s) to Timber/Steel
Stock Pack: 100 | Sub Pack: 100

STSL

Acoustic Isolation DFC suits Furring Channel(s) 129,308,309A - 2 9/16 inch M6 Adjustable Anchor Bolt
Stock Pack: 100 | Sub Pack: 100
Special Order Lengths: 65, 85, 100, 120, 150, 180

STSU

Acoustic Isolation Clip - 125/127/128 Top Cross Rail to 129,308,309A Furring Channel(s)
Stock Pack: 100 | Sub Pack: 100

STWC

Acoustic Isolation DFC - suits Furring Channel(s) 129,308,309A - 2 9/16 inch M6 Adjustable Anchor Bolt
Stock Pack: 100 | Sub Pack: 100

WHIB

Acoustic Isolation Hanger - Blue - 20A Duro Rating
Stock Pack: 100 | Sub Pack: 100

WHIG

Acoustic Isolation Hanger - Green - 40A Duro Rating
Stock Pack: 100 | Sub Pack: 100

WHIP

Acoustic Isolation Hanger - Pink - 30A Duro Rating
Stock Pack: 100 | Sub Pack: 100